Director and Piping Instructor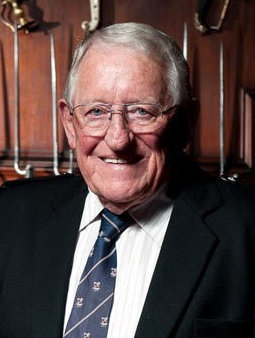 Sandy Jones began piping at the age of 8 under George Mars of Victoria, British Columbia, Canada.

He served with the U.S. Air Force Pipe Band and was Pipe Major of this organization for 8 years. As a member of the pipe band he often performed for Presidents, Heads of State, and dignitaries of foreign nations.

During his tenure in the Air Force he continued his studies of the bagpipe with Jack Chisolm of Inverness, Scotland and the late John MacFadyen of Glascow, Scotland.

In 1970, he and John MacFadyen co-founded the North American Academy of Piping which, over the years, has proven to be an excellent source of instruction on the bagpipe.

Sandy is the author of the tutor 'Beginning the Bagpipe'. He travels throughout North America judging at highland games, conducting workshops, and performing at recitals. He recently retired from The Citadel in Charleston, SC where he taught bagpipes for twenty-five years. Currently he is active with the Grandfather Mountain Highland Games and the Charleston Scottish Games.

In 2017, Sandy was awarded the prestigious Balvenie Medal at the Glenfiddich Solo Piping Championship in Blair Atholl, Scotland.
Piping Instructor

Bill Caudill is a native of Waxhaw, NC and began piping at the age of 9 with the Charlotte Caledonian Pipe Band. He began attending the North American Academy of Piping in 1981 and credits much of his success to tuition received there from Sandy Jones and the late Hamilton Workman. In his teen years he joined the Grandfather Mountain Highlanders and was Pipe Major of that band from 1987-1990. He also played briefly with the Charleston Police Pipe Band during their time in Grade II. In 1991 he founded the St. Andrews Presbyterian College Pipe Band which has since become one of the top bands in the Southeast. He has also studied with the late Messrs. Fred and Ronald Morrison at the College of Piping in Glasgow and has received additional tuition from Colin MacLellan and Ed Neigh. Bill is a member of the EUSPBA Judges Panel and Education Committee. He resides in Laurinburg, NC where he a faculty member serving as Director of the Scottish Heritage Center and Instructor of the College Pipe Band at St. Andrews Presbyterian College.
Piping Instructor

Greg, originally from Michigan, now resides in Kokomo, IN. He was a member of the Guelph Pipe Band, North American Champions, under the direction of Pipe Major Ed Neigh.

Among his many accomplishments, he was the Amateur Grade 1 Champion Supreme in Ontario, then began his professional career at the age of 16 and won the Piobaireachd Society (Canada) Gold Medal.

Over the years he has studied with such piping greats as P/M Frank Edgely, P/M Ed Neigh, Mr. John Goodnow, Captain John MacLellan, and currently with Mr. Wllie Connell. By profession Greg is high school teacher and teaches both German and History.
Piping Instructor
Jim began piping at the age of 10 in Dunedin, FL under the tutelage of Sandy Keith and currently studies with Sandy Jones, Ed Neigh, and Ronnie Lawrie.

Jim is the Director of Piping at The Citadel, The Military College of South Carolina in Charleston, SC as well as the P/M of the Charleston Police Pipes and Drums which has bands competing in Grades II, IV, and V. He is a past member of The City of Dunedin, The Citadel, and The City of Washington Pipe Bands.

He is an active soloist competing at the professional level in the Eastern United States Pipe Band Association as well as being successful across North America and in Scotland. Jim also holds a Masters Degree in Education from The Citadel.
Piping Instructor
Iain Donaldson is the Pipe Band Director at Dunedin High School, Dunedin Middle School, Director of Piping for the City of Dunedin and current Pipe Major of the Grade 3 City of Dunedin Pipe Band. Iain graduated in 1989 with a Bachelor of Fine Arts Degree from the State University of New York at Buffalo. Iain began piping at the age of ten and enrolled in his first pipe band, Niagara and District Pipe Band (Canada) at the Grade 2 level in 1978.

In 1983 Iain embarked on a long career wth the 78th Fraser Highlanders Pipe Band (Grade 1) in Toronto, Canada. He remained with the band for 23 years and was Pipe Sergeant for his last five years. The 78th Fraser Highlanders Pipe Band achieved North American Champion, US Open Champion and Canadian Champion Supreme on numerous occasions. In 1987 the band was crowned World Pipe Band Champions, making them the first overseas pipe band to win this title.

From 2005 to 2011 Iain played with The House of Edgar Shotts and Dykehead Pipe Band, Scotland. During this time Iain contributed to achieving British Champions, Cowal Champions, Champion of Champions and World Pipe Band Champions.

Iain and his wife Moira also own and operate Lothian Kilt Rentals & Bagpipe Supplies (formerly The British Shop), a family business established in 1965. The store is located in Dunedin Florida where they cater to everything bagpipes and Scottish attire.
Piping Instructor

Nick Hudson is the Instructor of Piping and Supervisor of the Bagpipe Band at The College of Wooster and is the third graduate of Carnegie-Mellon University's Bagpipe Performance degree, under Alasdair Gillies and Jimmy McIntosh. While completing the music performance BFA he was also in the Music Education Certification program at Carnegie-Mellon. Nick holds the Graduate Certificate from the Institute of Piping, the highest possible for bagpipe performance. In addition to highland piping, Nick is an active performer and teacher of border/smallpipes and whistles.

He is a member of the Grade 1 Toronto Police Pipe Band and a regular guest player with Bagad Kevrenn Alre from Britanny, France, previously playing in the Grade 1 City of Washington PB and Bagad Brieg.

Performance highlights of 2015 include winning the Piob. Soc. Canadian Gold Medal (2nd in Maxville Clasp and 2nd in A Piob. on same weekend), 2nd Braemar Gold Medal, and #1 Overall Professional Piping in EUSPBA award. He has represented the US three times in Lorient's MacCrimmon competition and has a CPA grading of A- in both Light Music and Piobaireachd. He is a former winner of the United States Piping Foundation in Grade 1 and has won the overall professional prize in Scotland at Inverness games, Strathpeffer, Assynt, Glen Isla, Lonach, and in North America at Ligonier, Kingston, Woodberry Forest, and Grandfather Mountain.

Nick is a member of the EUSPBA Judges panel and currently resides in Pittsburgh where he teaches piping and organizes The Pittsburgh Piping Society.
Piping Instructor

E.J. Jones began playing the pipes in 1986 while attending St. Thomas Episcopal School in Houston, Texas under the tutelage of Michael Cusack. Following his graduation, he played with the Hamilton Pipe Band of Houston under the direction of Donald MacPhee. In 1993 he enrolled in Carnegie Mellon University and studied piping with Jimmy McIntosh. As a founding member of the folk group, Clandestine, he toured throughout the United States with ventures in Canada and Brittany. E.J. is also a professional maker of Scottish Smallpipes, entertainer and teacher at workshops. While making his home in Asheville, North Carolina, he plays with the St. Thomas Alumni Pipe Band and is currently performing with fiddler Jamie Laval and guitarist David Brown.

We welcome E.J. to our staff of instructors at NAAPD and you may visit his website http://www.piperjones.com.
Piping Instructor

Ed Krintz has been a performer of the highland bagpipe for over 51 years, and has studied under P/M Sandy Jones, James MacIntosh, and the late John MacFadyen. He is a panel adjudicator for the EUSPBA, and currently teaches piping in the Charlotte NC area.
Piping Instructor

Robert Mitchell started his bagpipe adventure in Wilmington, DE when he was 9, under the direction of Robert Gilchrist. After spending a year in Scotland studying under the late John MacFadyen, he returned to the US and started teaching piping when he was a senior in high school. Later, Bob started a pipe band from scratch in Columbia, MD. Bob remained Pipe Major of the Clan Campbell Pipes and Drums, which became the Dunloggin Pipes and Drums for 20 years.

As a solo competitor, Bob won most contests he entered, at least once, including the Clan Donald Quaich at Fair Hill, the Stone Mountain Invitational Piobaireachd, and the Open Piobaireachd at Maxville, Ontario. He was awarded the Wee Piper trophy at Grandfather Mt. Highland Games five times. This led to Bob being invited to perform for Dame Flora MacLeod's 96th birthday celebration at the Waldorf Astoria.

For thirty years, Bob followed his passion for teaching as a Special Education teacher in public schools in Maryland. He retired from pipe band work in 1995, and pursued a career as a professional bagpiper, performing and touring with other folk musicians. He has recorded several CD's with IONA and The Sound of Sleat. Ten years ago, Bob started studying the art and history of small piping.

Bob will be offering small pipe instruction during weeks 2, 3, and 4.

Visit Bob's website: http://www.thereelpiper.com
Piping Instructor

Katy was born in the north of England to English and Pakistani parents. After her family emigrated to the United States, she spent most of her childhood in central New York, where she began chanter lessons at the age of 9 after watching the Mohawk Valley Frasers play at a girl scout meeting. Her first instructor was Jim Clough. As a young player, Katy benefited enormously from summer piping schools, where she was fortunate to have had the opportunity to study with many fine instructors, including Donald Lindsay, Ian McClellan, Jimmy McGregor, Ronnie Lawrie, and, most importantly, James McIntosh MBE.

In 1987 she moved to Pittsburgh and began attending Carnegie Mellon University, where she would serve as Pipe Major of the CMU Pipe Band during four years of university (1987–1991) and again from 1992-1993. Under the tutelage of Jimmy McIntosh, Katy enjoyed a successful solo career, ranking as the EUSPBA's top overall Grade I piper in 1989 and placing first in the Nicol-Brown Amateur Invitational that same year.

After a long break from piping, Katy moved to South Carolina in 1999, where she began a family, a pipe band, and a new career as a piping instructor. In 2012, Katy moved into the Professional piping grade. Since then, she has successfully completed the EUSPBA's Graduate Certificate and become an instructor at the North American Academy of Piping and Drumming. Katy currently plays with the Atlanta Pipe Band and has begun process of training as a EUSPBA judge.
Piping Instructor

A graduate of Carnegie Mellon University's conservatory of music, Lyric is the second person in the world to hold a Bachelor of Fine Arts in music performance on the bagpipe.

After a successful amateur career, including overall wins at the George Sheriff, Nicol-Brown, and United States Piping Foundation, Lyric upgraded to professional in 2003. Since then, he has been a member of the Scottish Lion 78th Fraser Highlanders and a regular prizewinner in North America and Scotland. Results include placing at the U.S. Gold Medal, Canadian Gold Medal, and the Silver Medal at Inverness.

In addition to competitive piping, Lyric teaches the St. Thomas' Episcopal School Pipe Band in Houston, Texas. The 5-time juvenile World Champions won their most recent World title in 2006 and were first at the North American Championships in 2008.
Piping Instructor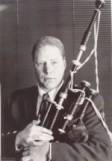 Scot was rated #1 Overall Solo Piping Competitor 7 out of 8 years by the Eastern US Pipe Band Association. He has won firsts at nearly all the major North American Solo Championships. In Scotland he has won first prizes in the professional competitions at the games in Dornoch, Strathpeffer, Lonach, and Cowal, among others. He has served on the Music Faculty of Moravian College as instructor of Bagpipe Music since 1993, and holds a Masters of Education.

http://www.walkerbagpiping.com
Piping Instructor

Gordon is the Pipe Major of the Grandfather Mountain Highlanders and has led the band to numerous championships during his tenure. He has played with the band since 1986 and served as Pipe Sergeant from 1994 - 1996. Gordon began piping in 1969 and has received instruction from Ed Krintz, Sandy Jones, Colin MacLellan, Hamilton Workman, Mike Cusak, and Jimmy MacIntosh.
Piping Instructor

Jon started piping at age 12 with Harvey Ritch with the Grandfather Mountain Highlanders. Jon received instruction from Sandy Jones, both from private lessons and at the North American Academy of Piping. He also was taught by John MacFayden, Duncan MacFayden, Hamilton Workman, Captain John A. MacLellan, Ed Krintz and Roddy MacDonald.

Jon has won piping contests in EUSPBA sanctioned games throughout the east coast, in grade 2 and 1, as overall season winner in grade 2 and 1. He was the first Piper of the Day at both the Orlando and Great Smokey Mountain Highland Games. He won the MacCrimmon Quaich at the Virginia Scottish Games and has been in the prize list in Maxville Ontario in grade 1. Jon won a full piping scholarship to Belhaven University in 1982.

Jon began teaching piping at the North American Academy of Piping and Drumming at age 16. He has taught numerous players throughout the southeast and has had students that have won prizes in both the U.S. and Scotland.

Jon and his wife Carol live in Elizabethton, Tennessee.

Drumming Instructor

John began drumming at the age of 13 through his local band program studying percussion. He continued his studies at The Citadel, The Military College of South Carolina as a drummer in the Pipe Band in Charleston, SC serving as Drum Sergeant from 2000 to 2002.

He began attending the North American Academy of Piping and Drumming in 1999. He has received instruction from Andy White, Jon Quigg, Hugh Cameron, and Tom Foote.

He is currently the Drum Sergeant for the Charleston Police Pipes and Drums, holding this roll since 2003 and led the Drum Corps from Grade IV in 2004 to the ranks of Grade II in 2006. He provides instruction for pipe bands in the local region as well as private lessons throughout the Charleston Area. He also competes as a Grade 1 soloist in the EUSPBA.
Drumming Instructor

In 1973 at the age of 13, Jon Quigg began his drumming career in the Annapolis Pipe Band in Maryland. His primary influences include the likes of John Bosworth and Alex Duthart. In 1976, he moved into the professional solo competitor ranks and into the Grade 2 Denny and Dunipace Pipe Band of Washington, DC, now known as the City of Washington Pipe Band. While that band has always been home, over the years he has guested with a number of groups around the world, including bands in Monterey, Honolulu, Tokyo and Vancouver. In 1989, he assumed the Drum Sergeant position of the City of Washington Pipe Band and helped them garner numerous North American contest wins, culminating in their winning performance at the 1999 World Pipe Band Championships. In addition to his competition career, he has taken part in recording projects and drumming clinics around the globe. Highlights from recent years include the CoW corps' successive wins in the drum salute contest at Winter Storm in Kansas City and an appearance at the White House. Jon currently lives near Baltimore, Maryland with his wife, Beth.
Tenor and Bass Drum Instructor

Sally is an original member of the Grandfather Mountain Highlanders and serves as their competition bass drummer. She studied tenor drumming under Matt McConnell for many years at the School of Scottish Arts in North Carolina and is proud to carry on Matt's legacy at the NAAP. Sally was an active competitor in tenor drumming for many years winning numerous open titles. She is currently on the EUSPBA judge's panel and has instructed many regional bands and individuals over the years. Sally is also the Director of Piping for the Grandfather Mountain and the Loch Norman Highland Games.